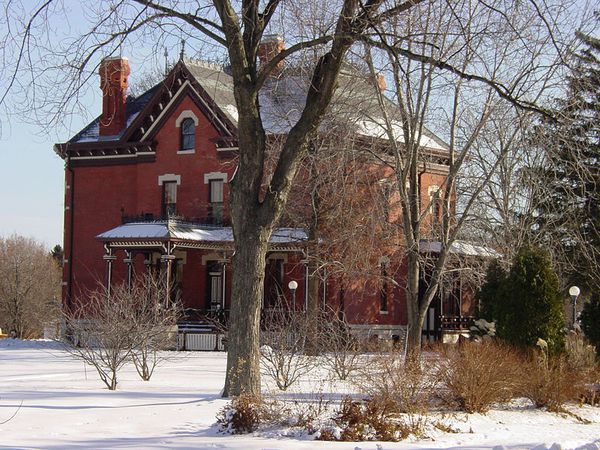 Naperville was founded in July 1831 by Joseph Naper. The first settlement was simply called Naper's Settlement. Just one year later than 100 settlers Naper's Settlement reached. These settlers were temporarily into Fort Dearborn, the nucleus Chicago evacuated to protect against a possible imminent attack by the Sauk. Its own fort, Fort Payne was built at Naper's Settlement, the settlers returned, fearing attack by the Sauk never took place. A reconstruction of Fort Payne can visit the outdoor museum Naper Settlement. This museum was established in the 1970s by the Naperville Heritage Society to get some of the oldest buildings in the town.
From 1839 to 1868 Naper Settlement's was the county seat of DuPage County. 1857 Naper's Settlement was officially registered as a Village of Naperville. At this time, Naperville had a population of about 2,000 inhabitants. Naperville became a town in 1890 and was officially registered as a City of Naperville.
Since its inception mainly rural character, Naperville experienced beginning in the 1960s, but increased in the 1980s and 1990s a population explosion. This development was fostered in particular by the construction of Interstate I-88, the so-called East-West tollways, recently renamed Ronald Reagan Memorial Tollway, and the construction of Interstate I-355, the so-called North-South Tollway. As part of the improved transport links strengthened industrial sites, services, jobs and wealth were in the western suburbs of Chicago. In the past two decades, the population has almost quadrupled Napervilles.
Picture: John D. Buell/en.wikipedia.org/wiki/File:Martin-Mitchell_Mansion_-_Naper_Settlement_-_Naperville_Illinois.jpg